Need more information? Use our search box

Address plaques. Address plaque kits
Your home has a municipal address and it is up to you how you want to "be found" by friends and visitors. A clearly marked home will also help delivery people and those responding to an emergency (medical, fire, police) to find your home during the day or night.
One-sided address plaques may be fastened to the house, a mailbox, tree, boulder, post near the road or to whatever you think looks good.
Two-sided address plaques are needed for hanging signs and garden mounted plaques.
What do you want to display?
There are several options to choose from such as:
- Number only.
- Number plus family name
- Number plus street name
- Number plus family and street name
Material.
Some of the more common materials used for plaques are plastics, crushed stone, carved stone, granite, slate, stainless steel, or cast in time honored classic aluminum, brass or bronze
Type of plaques
- Builder installed. They are part of the masonry exterior.
- Home made. You design and make your own address plaque from material of your choice.
- Plaque kit. You buy the base unit and numbers separately. The numbers come either with a self adhesive back or have to be attached to the base unit with screws.
- Custom made. Almost unlimited options.
For nighttime visibility there is a choice of:
- Plaques with numbers that reflects any light source at night.
- Installing a spotlight with a timer.
- Pre-wired lighted address plaques.
- Solar-powered. For shady areas you can install a remote solar panel and run a wire to the number display.
Style, size and shape
It is important to choose the right shape and size for the address plaque so it will fit in with the exterior appearance of your home.
Plaques can be round, oval, rectangular, vertical (could be mounted to mailbox post) or have elegant fretwork.
Location
Make sure that the address plaque can be seen easy from the road and that it is not obstructed by trees or bushes. If the house is located a fair bit from the road you may want to install a lawn plaque, hanging plaque or just fasten it to a tree.

TIP. Use your computer's printer to print the house number, tape it to a piece of cardboard and then tape that to the intended location. Now walk down the road or sidewalk to see if the number can be read. You may find that the number should be at least 4" (10cm) tall.
Photo Gallery. More pictures of artistic, custom made and builder installed address plaques.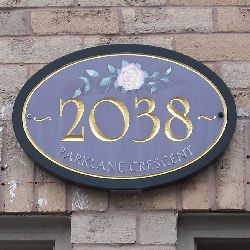 Hand carved wooden address plaque



Solar Lighted address plaque
Image courtesy of mailboxandbeyond.com




Carved in large rock located
close to the road