Need more information? Use our search box

Cedar wood fence.
All wooden fences will eventually warp or crack however cedar is much more durable than other types of wood. Not too long ago I had to tear down a 40 year old cedar fence. The 1"x6" fence boards were still in great shape. After sanding the boards they were reused for some narrow shelving in my workshop. Cedar may cost more than other wood types but looks a lot nicer, doesn't split easy and it will last longer. Cedar is lighter than pressure treated wood and is easier to work with. A newly installed fence just looks great. Over time the fence will turn to a rustic gray shade.

Don't start yet!
* Before even starting to build your fence you should check with the local utility companies if there are any underground utilities in the area where you want to build the fence and if so, where they are located.
* Be 100% sure of where the property line is. If not, you may need a property survey which could be costly but believe me, it will be a lot less expensive than finding out later that "your" fence is on the neighbours property!!!!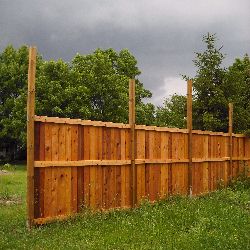 Cedar fence under construction