...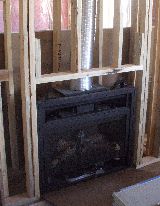 New home construction
Free standing gas fireplaces
resemble wood-burning stoves. All surfaces are exposed, so these fireplaces tend to be more effective in supplying heat to a home since heat is not lost up the chimney or in wall cavities.

..




Gas Fireplaces
....
Need more information? Use our search box

Gas fireplace inserts. Zero clearance gas fireplaces. Free-standing gas fireplaces.
There are three basic types of gas fireplaces; Inserts, zero-clearance units and free-standing units.
Gas fireplace inserts are meant to be installed in an existing fireplace cavity, to convert a wood-burning fireplace to use natural gas or propane. Existing chimneys must be relined with an approved vent when a gas insert is installed.
Zero-clearance gas fireplaces. This type of fireplace is factory built and has many advantages over the traditional fireplace. There is no need for an expensive foundation.
A zero-clearance gas fireplace weighs as little as 75 lbs. (35 kg) and a wood burning unit 200-400 lbs. (87-174 kg). The unit can be placed just about anywhere. Specially designed double-walled high temperature chimneys can pass through closets while direct vented gas fireplaces don't need a chimney at all.
Zero-clearance gas fireplaces can be easily installed in existing homes and even more so in new home construction. The efficiency of a zero-clearance unit





Zero-clearance direct vent gas fireplace
is about the same as a heatilator type metal insert that is placed inside a masonry fireplace to heat and circulate room air. The fireplace can be turned on either by a wall mounted switch or remote control.



WARNING. NEVER BURN TREATED LUMBER IN A FIREPLACE OR WOOD STOVE. 'Wolmanized' lumber contains arsenic and chromium which are highly toxic. Do not use cedar shingles for kindling, they are also treated with chemicals.

...