Need more information? Use our search box

Garden fountains. Fountain pumps
A fountain (from the Latin "fons" or "fontis", a source or spring) is a piece of architecture which pours water into a basin or jets it into the air. Fountains have been around for centuries and are still popular today. They can be practical, such as drinking fountains, or designed for recreation, such as splash fountains where children can cool off during hot days, or ornamental, decorating city parks and squares and home gardens.
Fountains may be wall mounted or free-standing. Fountains can be also constructed of several basins where water will flow from basin to basin as illustrated in the 3-tiered fountain shown to the right. Many fountains are located in small, artificial, ornamental ponds, basins and formal garden pools.
Until the 20th century fountains depended upon gravity to make water spout or spray in the air, but modern fountains, in most cases, use mechanical pumps.
Fountain pumps.
The vast majority of garden fountains obtain their water from a closed, recirculating distribution system. The pump should be removed and cleaned at the end of the summer season. When I purchased my pump at a specialty store I was told that the best way to store the pump during the winter is to keep it submersed in a pail with water. This will prevent the seals and gaskets from drying out and shrinking which in turn will lead to an inefficient pump and/or shorter life span.
Maintenance.
All garden fountains need a good cleaning to remove any algae growth. Blown in debris should be removed from the water. The cleaner the water the longer the pump will last. Water may have to be added from time to time to make up for water lost through evaporation.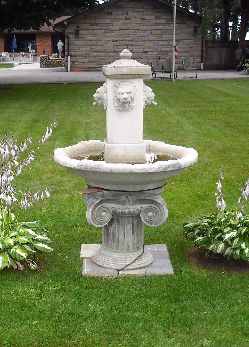 Four sided garden fountain