Need more information? Use our search box

Garden planters.
Plants and flowers grown in planters, require more attention than plants growing in a regular garden. Usually there is less soil, fewer nutrients and more water loss through evaporation. To keep plants healthy it is important to use fertilizer pellets mixed with potting soil during planting, to loosen compacted soil and to keep the soil moist at all times. It is a well known fact that rain water contains more nutrients than tap water, so if you have a rain barrel installed it would be also a good idea to add a soluble fertilizer to the barrel from time to time to stimulate health and growth of your plants.
Types of planters. Planters can be free standing, wall mounted, hanging or installed on deck railings. Balcony railing planters are popular with apartment dwellers. An old tire or bathtub can also serve as an "instant" garden planter. Not too long ago I spotted a beautiful hanging tire planter suspended by three chains, from a large tree branch. Obviously a bottom was bolted or screwed to the tire to hold the soil.
A deck rail planter, see illustration, can be easily made from a few fence boards and a narrow plastic planter. The sides should be two inches (50mm) wider than the ends to keep the planter on the deck railing. Two 3/4 inch (19mm) thick spacers should be nailed to the bottom of the planter to keep if off the deck railing and to prevent wood rot.
Shapes and sizes.
Garden planters come in a wide varity of shapes and sizes. Home made wooden planters are often square or rectangular shaped while store bought planters and pots can be round, oval or cone shaped.
Common materials.
Planters can be used indoor as well as outdoors. Not all planters and pots are suitable for outdoor use. The most common types of materials used are: steel, copper, aluminum, vinyl, wood, wrought iron, fiberglass, ceramic and concrete.
Planter location.
A well placed and maintained planter can enhance the appearance of any home and garden. Two properly sized planters placed on the front stoop and flanking the front entrance can be impressive. They can also be placed along pathways, patio and pool areas, on decks or near other garden features such as flag poles, ponds, gazebos, etc.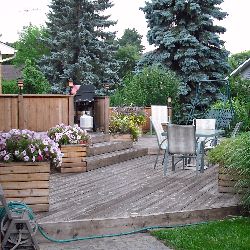 Garden planters brighten up the lower deck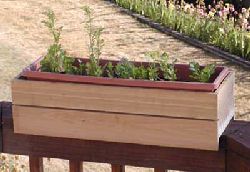 Deck rail planter