Need more information? Use our search box

Security gate. Automated gate.
Security or automated driveway gates are designed to
(a) prevent unwanted people or vehicle traffic from entering your property and
(b) to make it convenient for you and your guests to enter or exit. The best time to install a security or automated system is when the driveway gates are being built, although some systems can be added to existing driveway gates.
Automatic gate systems are available for swinging as well as for sliding driveway gates. There is a vast array of security systems to choose from. Check out all systems and choose the one that is the most practical for your needs.
Here is a short list of automated driveway gate opener systems:
- Remote control (much like a garage door opener)
- Keypad entry
- Telephone entry
- Intercom
- Exit censors.

Camera/Video
Security cameras or video surveillance systems can be added at any time to whatever system you choose.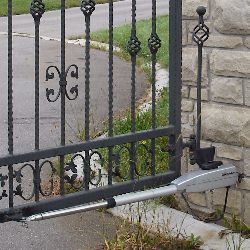 Remote control automatic gate opener