Need more information? Use our search box

Wrought iron fence gates.
Wrought iron gates have been around 'forever'. An ornamental iron gate can finish your outdoor landscaping with extraordinary classic elegance. It is expensive compared to gates made of other materials but it will add beauty to your home and lead to increased property values. Gates are without a doubt the most important part of any fence or property entrance. A fence without a gate is useless right? A gate must be able to stand up to heavy traffic, be durable and its supports must be strong enough to keep the gate and locking device aligned. Fence gates provide the finishing touch to a fence. You can have the gate blend in with the fence or you can make it stand out, either by design or choice of material. Always make sure that the gate swings freely. Keep it low if you have a small pet. If the gate is also used during the winter keep it approximately 6" (15 cm) above grade so it doesn't get stuck with the first snow fall.
Today wrought iron gates are pre-fabricated and come with a chemically bonded powder coated finish. Gates are available in various heights and in a variety of colours.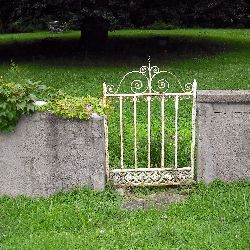 Wrought iron gate in masonry wall