Need more information? Use our search box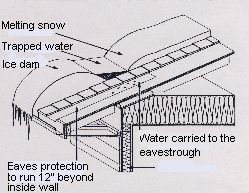 Ice Dam. Ice-and-water shield. ice build-up. Eaves protection.
Ice dams form when warm house air leaks into the attic, causing snow to melt and run down to the eaves. Normally, the eaves are colder than the upper part of the roof and will allow melting water to freeze, forming a dam.
As more snow melts, more water gets trapped, which may back up under the shingles and cause damage to the eaves and/or house.
Eaves protection has to be installed for all shingle, shake or tiled roofs. It should be at least 36" (900 mm) up the roof and 12" or 300 mm. past the inside of the exterior wall. But in some cases that is not enough. In this picture the soffit is 25" wide. The ice dam is around 8" (200 mm) thick at the edge creating a large 'lake' of melt water behind the dam. On the interior side the ceiling has water stains almost 6 ft.(1.8 m) in from the exterior wall. In this case there is, no eaves protection installed, or not far enough up the roof or inadequate insulation in the attic.