Need more information? Use our search box

Garden lighthouse
Would you like to add a simple but effective nautical look to you garden? It is as simple as adding a lighthouse! You must have seen the odd lighthouse here and there on your travels. You can purchase a lighthouse, either in a local retail store or on-line. They come in sizes from approximately 2-12 feet (0.60-3.60 m). Most of the store bought lighthouses are generic in appearance but there also companies that make exact replicas of existing lighthouses or will make a custom built one for your specific needs. If the lighthouse comes with a light, the top can be removed to access the light. It is always a good idea to anchor the lighthouse regardless of its size and weight.
Material.
With a few exceptions, lighthouses are made of stucco, plastic, wood, stained glass or exterior grade plywood.
Light options.
You may choose from standard light, flashing light, strobe light, rotating light or solar light. Your options are determined by the availability of power or whether you are willing to extend power from the house to the lighthouse (trenching and conduit required). Lights operate by using a standard AC/DC receptacle. It is recommended to use a light bulb of 25 watts or less. If the lighthouse is not stationary and if there is enough sunlight you may want to install a "green" ecological friendly solar light which will save on installation costs and energy use.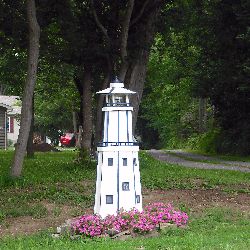 48 Inches (1.2 m) tall garden lighthouse