Need more information? Use our search box

Loose Fill Rock Wool Insulation. Loose fill Mineral Insulation.
R-Value: R 3.0–3.3 per inch on average.
Rock wool loose-fill insulation is similar to fiberglass except that it is spun from blast furnace slag (the scum that forms on the surface of molten metal), basalt and other rock-like materials instead of molten glass.
Rock wool insulation is also known as mineral rock wool or slag wool insulation. Mineral wool, mineral fibers or man-made mineral fibers are fibers made from natural or synthetic minerals or metal oxides. The latter term is generally used to refer solely to synthetic materials including fiberglass, ceramic fibers and rock or stone wool. It is a man-made material consisting of natural minerals such as basalt. Rock wool contains an average of 75% post-industrial recycled content. It doesn't require additional chemicals to make it fire resistant,
Loose-fill rock wool insulation can be used in retrofitting old homes by blowing the cellulose into holes drilled into the tops of the walls. It can also be blown into a new wall construction. It is also a good attic insulation as it will fill irregular spaces between framing members, electrical outlets for ceiling lights and around other ceiling penetrations such as plumbing stacks, exhaust vents and chimneys. It is ideal for hard to reach places where it would be difficult or impossible to install other types of insulation.

Warning
There are studies suggesting that fiberglass particles can be linked to respiratory problems and cause (temporarily) skin irritation. More significantly, according to the Canada Mortgage and Housing Corp., there may be a potential cancer risk from exposure to both fiberglass and mineral wool insulation particles. Therefore, when handling any type of insulation always wear long sleeved tops, gloves, eye protection and a face mask. Having the work area well ventilated is also recommended.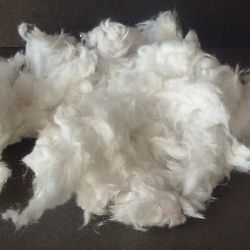 Rock or Mineral Wool Insulation