Need more information? Use our search box

Mailbox. Rural mailbox. Mailbox plans
There are basically four types of mailboxes. A slot in the door or wall. A cluster mailbox for an entire building or street. A box attached to the house. A mailbox and stand located near the street.
A mail slot in the door or wall
This type of mail slot can still be found in older neighbourhoods throughout Canada and the USA. However, when it is time to replace the front door, the mail slot should be replaced by a mailbox attached to the house as not too many people are willing to cut a new mail slot opening into a new door! Also, the older mail slots were large enough to receive a regular sized envelope or postcard but too narrow to receive large manila envelopes. Over sized mail slots are still available in most hardware stores.
Mail slots are covered by a flap on the outside for weatherproofing. The flap may be closed by gravity or a spring to prevent it from opening and closing by the wind. Some mail slots also have a second flap on the inside to offer further protection from the elements.
Wall mounted mail boxes
Wall-mounted or 'attached' mailboxes are usually located close to the front door. This type of mailbox is common in older suburban neighbourhoods. Usually there are two hooked arms for the newspapers below the mailbox. There are also decorative free standing mailboxes available for those who do not want to fasten the mailbox to the house.
Rural mailboxes
Most mailboxes out in the country are of the same size and shape. Traditionally the box would rest on a T-shaped 4"x4" (10 x 10 cm) structure. There are also one piece boxes for curb delivery made of plastic or fiberglass. However, if you are creative you can design and build your own box and/or fashion a stand from farm machinery parts, a welded chain or whatever.
Height of the ground
In most areas the height off the ground is 42"- 46" (1.07-1.16 m) measuring from the pavement to the bottom edge of the mailbox door. To make sure of what is required for your area contact the Canada Post Corporation (Canada Post) or the United States Postal Service (USPS).
Signal (red or orange) flag on mailbox
In many areas the mail carrier will raise the red flag if there is mail. The red flag can also be raised by the resident to let the mail carrier know that there is outgoing mail. Proper use of the flag will prevent many unnecessary stops and trips to the mailbox especially if the weather is bad. However, there is a drawback because mail theft is rampant in some areas and many people are no longer leaving outgoing mail in their mailboxes. It's safer to mail it at the post office in town.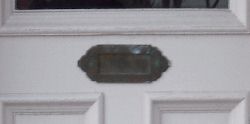 This old mailslot is only 7 inches wide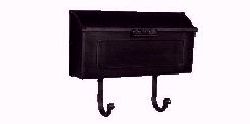 Standard wall mounted mailbox with extension to hold
newspapers or small parcels



Two nice examples of rural mailboxes
placed near the road