Need more information? Use our search box

Pool safety.
Of the children who drowned between 1998 and 2002:
37 % gained access to the pool through an open or unlocked gate;
26 % gained access to the pool by climbing a ladder that hadn't been raised or withdrawn;
21 % gained access to the pool because there were simply no safety devices to prevent them from doing so.
A lapse in supervision can unfortunately lead to the irreversible. It's a fact that the majority of those who drowned in backyard pools were alone at the time.
More than 50 % of drownings are caused by an accidental fall into the pool outside of swimming times.
Pools present a significant risk of infant and toddler death due to drowning. In regions where residential pools are common, drowning is a major cause of childhood fatalities. Therefore it is advisable to closely watch small children around swimming pools, especially private pools that do not have professional lifeguards. Adults are more likely to be aware of risks, but it is still a good idea to have more than one person around when using a private pool. As a precaution, many municipalities have by-laws that require that residential pools be enclosed with fencing to restrict unauthorized access.
The best way to ensure safety around pools is to be educated. Knowing how a swimming pool works greatly improves safety. Long haired individuals must avoid water inlets. These inlets, also known as skimmers, are rectangular holes on the wall that are sometimes partly or completely underwater. In private pools there can be one to two inlets, in public pools five to twenty. Also to be avoided are the main drains, usually identified as round mesh covered objects on the pool floor, as poor design can occasionally cause a safety problem.

This sign should be posted on all gates
giving access to pool area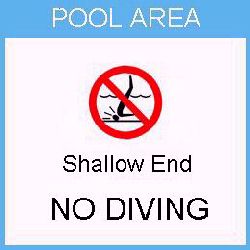 Should be posted at shallow end of the pool
Building codes and product standards have eliminated these hazards for current designs, but not all pools are up to standard.
Extra care must be taken when swimming along the sides or floor of the pool, where drains are present. Some pools are designed without drains, which will 100% eliminate the potential of suction entrapment.
Signs alerting pool owners and users about the risks of drowning and of diving into shallow water are available from the National Swimming Pool Foundation (US). The CPSC urges pool owners to contact their pool dealer for information about the signs or for the name of a local source where signs are available.



People with recent body piercings are advised to keep those areas from being submerged in pools, to avoid them being infected.