Need more information? Use our search box

Stand alone swing sets. Swings
Most of us have fond memories about the fun we had with the swing set in the back yard or playground. There was a certain technique to be mastered in order to "swing on our own" without the need of a push from parents or a friend. Yes, those were the good old hot summer months of, what seemed to be, yesterday.
The legs of most swing sets do not have to be set in concrete as the A-shaped ends of the swing sets provide sufficient stability but manufacturers instruction should be adhered to. If I remember correctly, the set I bought for our children was secured by driving in steel pins through pre-drilled holes at the end of all four legs. Not much has changed over the years. Swing sets are still "in". The typical stand alone swing set is made of metal or sturdy 4x4s. Backyard swings come in all kind configurations and heights. When you are shopping around for a swing set read the specs. It will tell you if the swing set is suitable for children or adults. The typical one or two bay swing set is equipped with belt seats. However in most cases a belt seat can be replaced by a basket seat suitable for toddlers.
If you choose to buy wooden swing set or make your own, be sure that the material is not Pressure Treated lumber which could pose a health risk to the children. Also make sure that the wood corners and edges are well rounded and splinter free.
Metal swing sets require no maintenance. The powder-coated finish will resist rusting, fading, and peeling.
TIP
Make sure the set is placed on a level spot to prevent excessive wear on the set. Also, if the set is not placed level the swinging will be "out of plumb" which could lead to accidents such as bumping into others using the set or into the swing set ends.

Stand alone swing set in municipal park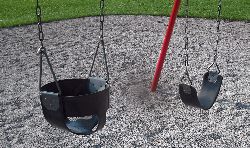 (L) Basket seat for toddlers. (R) Belt seat