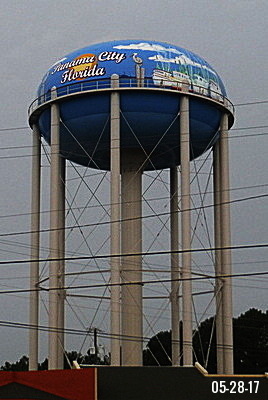 Tower Information
Tower signage: Panama City Florida
Location: Intersection US-231 and US-77
Built:
Height:
Missing tower data: Please contact us if you have more information.

Please take some pictures of "your" local tower and send them to us, uncropped and in .jpg format.
Click here to send us an image
Panama City - Florida


Bay County. Photo

© Mark Visser
Area Information
Panama City, Bay County, is the largest city between Tallahassee and Pensacola. It is the more populated of two principal cities of the Panama City-Lynn Haven, Florida Metropolitan Statistical Area. Panama City was incorporated in 1909.

History: According to the Panama City Public Library's A History of Panama City, a developer named George Mortimer West hoped to spur real estate development in Bay County during a period of intense popular interest in the construction of the Panama Canal by changing the town's name from Harrison to Panama City, because a straight line between Chicago and the capital of the Central American country of Panama intersected the Florida town.

Tyndall Air Force Base is east of the city. The HHT 1-153 CAV is stationed there. It is part of Florida Army National Guard's 53rd Infantry Brigade.
The city is also home to the U.S. Navy's Naval Support Activity Panama City which is home to various research and training projects.

Resources: Wikipedia
Other sites you may be interested in:
Thumbnail Collection of USA Water Towers
Canadian Water Towers and Standpipes
Magnetic Hills in the United States of America
The History of the Christian Fish Symbol
.....