Need more information? Use our search box

Parapet wall. Parapet flashing. Fire wall. Fire stop.
The portion of the masonry wall which extends to above the roofline is called a parapet wall. In old buildings the parapet wall can be on two or all four sides of the house. The parapet wall was often very ornamental as can be seen in many "old world" buildings.
For newer homes the parapet wall is more practical and serves as a firewall.
The wall is exposed more to the elements than other masonry wall sections. The top of the parapet wall is especially vulnerable to water penetration.
Choosing an appropriate cap is important to eliminate this from happening. The cap of the wall can be made of stone, pre-cast concrete or metal.
Metal caps will expand nearly three times more than masonry, which causes a significant amount of movement between the cap and the parapet wall below.
There are many ways to install a metal cap, including tightly sealed slippage joints and through-wall flashing.
When it is time to replace the parapet wall capping on your home discuss your options with an experienced contractor and check what type is practical and commonly used for your area.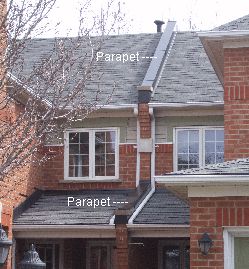 Parapet firestop wall between townhouses