"A house is not a home until
you make it your own"
Checking out this website is the first step in transferring your house into a home
OOPS! WHAT HAPPENED?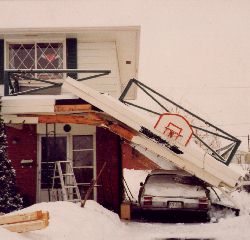 This 'accident' was 100% preventable. Find out why this carport collapsed and how you can prevent this from happening to you by clicking here.
WARNING
Topics on this site are provided as general information only. Eureka4you.com/home DOES NOT guarantee the accuracy or completeness of any information contained on this site. Always use proper safety precaution and reference reliable outside sources. The GOLDEN RULE: Be sure that you know what and how to do it. If in doubt call a professional. Before starting any job contact the municipal building department for information on codes and building permits.
Custom Search
WELCOME TO "UNDERSTANDING YOUR HOME"
This is not your typical Do-It-Yourself website about remodeling, retrofitting, home improvements, home renovations, home tips or on how to fix things. Though some of these subjects will be dealt with, the emphasis of this site is more on how a pre-purchase building inspector will look at a house. So, on this web site you will find some basic information about your home such as construction, early warning signs of future problems, repairs, preventive maintenance and conserving energy.
Articles and illustrations are copyrighted by Mark Visser, a Building Inspector for over 25 years. See also "About Us." For a more detailed subject index click on any link on the far left.
Scroll down to some "cool" links.....




Sorry for the mess, this site is always under construction

New pictures will be added weekly. Articles will be updated regularly. So, in other words, this site will always be under construction.
Please feel free to contact me if you find a broken link or missing illustration.
Thanks for visiting and please come back often.
mark, <><


Some interesting links that may be helpful to home owners
Plants Can Lower Indoor Air Pollution Levels
How trees can lower the cost of heating and cooling your home
A Quick Way to Calculate the Cost of Running Appliances