Steel window well cover will prevent injury to persons and wildlife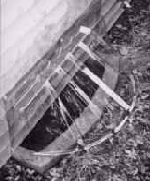 Pre-finished plastic cover over concrete window well

.




Rough-in drain pipe
for window well

Window Wells for Basement Windows
...

Need more information? Use our search box

Window wells. Steel window well cover. Plastic window well cover.
If the bottom of your window is below the adjacent ground, as in basement windows, you will need a window well. The most common type is the pre-manufactured corrugated metal window well. Sometimes they are constructed of materials such as concrete, concrete block or pressure treated lumber.
There should be at least a few inches of space between the basement window sill and the surrounding soil. If it is less it is recommended to install a window well to prevent wood rot and water seepage into the basement. Corrugated steel window wells are inexpensive and easy to install but care should be taken not to damage the foundation's waterproofing. It may be a good idea to add even more waterproofing before installing the well. Where possible, each window well should have a gravel filled drain pipe connected to the weeping tiles for better drainage. Window wells in older homes are mostly made of poured concrete. Window wells should be filled with gravel up to 3" (75 mm) below the window sill and kept free of debris. Accumulated debris will prevent proper drainage to the weeping tiles which could result in water backing up in the well and leaking into the basement.





Uncovered window well in patio area is
an accident in waiting
Steel basement window well covers as shown to the far left, are made of heavy duty steel. They should be installed in people traffic areas such as patios and walkways. All window wells should have a cover in areas where small children are playing such as backyards.
Plastic window well covers as pictured, are easy to install. Just make sure that they are snug fitting against the wall and cover the entire well.



WARNING. Any grill, cover or other obstruction over a window well, needs to be easily removable from the inside without the use of a key, tool or special knowledge.