Egress window wells. Egress windows. Egress window well covers
If you have a partial or fully completed basement where the family or just the kids spend time it is your responsibility to check with the local municipality what the minimum requirements are for egress windows and egress window wells. As a rule, if the basement is not finished it is not considered to be habitable and building codes may not apply. However, common sense dictates that if the basement is used as a playground for young children or a place where friends of your teenage son or daughter can stay overnight, you want to make sure that they can get out or can be reached from the outside by emergency personnel.
Egress windows
Codes may not be the same for all jurisdictions.
Here are some exerts from the Ontario Building Code:
* An egress window cannot be less than 46 cm. (18") in any direction.
* The window opening has to be at least 3871 sq. cm. (600 sq. inches)
* If there is a window well for the basement window, it must extend 92 cm. (3 feet) out from the house wall. (note: this is the minimum room needed for a firefighter wearing full equipment to get in and save you)
The National Building states that:
* The egress window has to be less than 92 cm. (3 feet) from the floor.
* The egress window well should have steps, ladder or climbing hooks to get out of the well.
Egress window wells
Deep corrugated steel window wells are sold in sizes that make it possible to be fitted with code approved ladders. You also have the option of purchasing window wells of high-density polyethylene molded construction. They come with climbing hooks or terraced steps. Unlike the steel egress window wells they will never rust or rot.
Egress window well covers
Window well covers will prevent people and wildlife from falling in. Clear plastic Plexiglas covers let in daylight but don't allow for ventilation. Unless reinforced, larger Plexiglas covers should not be used in areas with foot traffic.
Heavy duty metal mesh grating window well covers are also available or can be custom made. They are ideal for areas where there is a lot of foot traffic.
Enlarging existing window
If the window meets the minimum required width just cut the foundation wall down to the required depth. There is more involved if the window has to be made wider (bearing wall, window lintel, building permit and drawings) and this job should be done by an experienced building contractor.
TIP
Before ordering an egress window well check with local authorities what the code requirements are for your area.

Egress window wells provide enough room for fully equipped firefighters to enter the basement
Photo courtesy of St. Paul Corrugated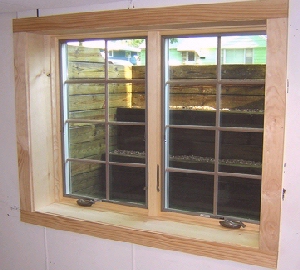 Egress window and egress window well constructed of heavy landscape timbers



Molded plastic egress window well with build in steps