Need more information? Use our search box

Security door viewer. Peephole
Security door viewers, also known as peepholes, are small fish-eye glass lenses that allow residents to view outside. Door viewers offer some form of security as the homeowner can see the caller without having to open the door. Door viewers are available with a 160, 180 or 200 degree view to let the homeowner know of who or what is on the other side of the door. It is a one-way device, you can look out but unwanted visitors cannot look in. Door viewers are installed at about eye level. Door viewers are usually made of plastic, brass, nickel or stainless steel.
The standard door viewer can be purchased in your local hardware store. It is inexpensive (under $15.00) and easy to install. There are also door viewer systems available using advanced technology. You don't have to stand up close to the door but can stand back several feet and see who is calling on a small screen.

Installation tips
- Measure and mark the center of the door.
- Measure and mark 58" (1.47 m) from the floor. The comfortable height may vary by a few inches either way.
- Drill a 1/8" pilot hole through the door.
- Drill a 1/2" hole halfway through the door from one side and do the same from the other side. This is to prevent the wood from splintering.
- Unscrew the viewer and add some silicone around the lens which will help to keep moisture out. The lens end is inserted from the exterior side and the tube from the interior side.
- Reassemble viewer.
TIP
Secure ALL exterior doors (front, side, back, patio and garage doors). A burglar's first choice of entry is the side or back door followed by the garage door.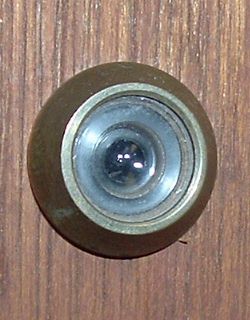 "Fish eye" lens on plastic door viewer