Directions
LOS BANOS, just south of Calamba heading away from Manila on the South Luzon Expressway, is home to the University of the Philippines Los Banos (UPLB). The hill is not too far from the university of the Philippines. Go to U.P. and climb up to the boyscout jamboree. Magnetic hill is really just a short patch of the road before this really big property with metal gates on the left side.you cant miss it because plenty of people(even locals) stop their cars on the spot and have their cars rolling up with the engine off.

Map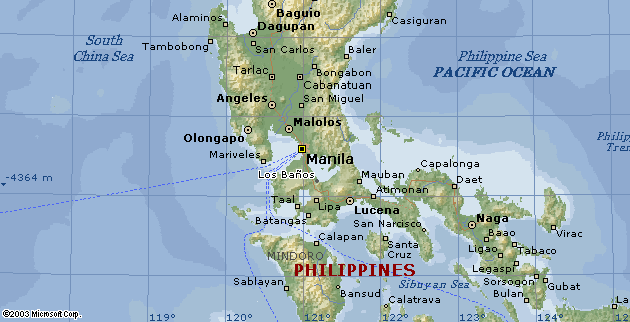 Pictures

A car slowly rolling uphill. (1995)


Watching water flowing uphill. (1995)
Instructions
WARNING. You are on a public road! Obey all traffic signs and rules. Where there are hills there are blind spots. Always bring someone to watch for other traffic. Never try the hill when the road is wet and slippery or during inclement winter weather conditions.
With caution, position your car at a "bottom" of the hill and put your car in neutral. Take your foot off the brake and you will experience the thrill of your car not only climbing the hill by itself, but gaining speed as it goes. Look out for other traffic.
---------------------------------------------
After trying this natural phenomenon you may question it's causes. Well, we don't want to disappoint you, but whether it is called a Magnetic Hill, Gravity Hill, Mystery Hill or Electric Brae it is an optical illusion. It has nothing to do with magnetic fields, electricity or unknown forces working along mysterious lines.

ABrief History of the Philippines
Situated on the crossroads of Asia, on the eastern rim of the China Sea, the Philippines has hosted voyagers, migrants and traders since the dawn of history. That it was the center of lively Asian trade route that stretched all the way to China and Japan can be seen from the relics these early visitors left behind. Among our archaeological treasures is a Neolithic spirit boat typical of early Southeast Asian culture.
The West discovered the Philippines when Ferdinand Magellan, the Portuguese explorer who sailed for Spain, landed in Cebu in 1521. However, colonization didn't actually begin until 1565, when Miguel Lopez de Legazpi established a Spanish base in the town of Manila.
Because Philippine society was loosely organized, without a central government, the Spanish conquest was rapid and total. Only the Muslims in the south and some inaccessible hill tribes were able to resist Spanish influence. Along with the Spanish conquerors came a new religion, Christianity, a new language, new laws and the galleon trade.
Despite several uprisings against Spain, including the Katipunan, a revolutionary movement inspired by Dr. Jose Rizal and led by Andres Bonifacio, it was the United States of America that broke the Spaniard's grip on the Philippines. Unfortunately, that began the nation's second period of colonization. Once again there was resistance, this time led by Emilio Aguinaldo; but his rag-tag army was no match for Admiral Dewey's forces. In 1901, with Aguinaldo's capture, the Americans were entrenched.
The Americans brought over their educational system, their legal system and planted the seeds of their own style of government. In 1935, the Philippines became an American commonwealth country with Manuel Luis Quezon as president. The status quo ended with the Japanese Occupation; and it wasn't until 1946, after the end of the Pacific war, that the Philippines finally regained true independence as the Republic of the Philippines under the presidency of Manuel Roxas. Still one of the strongest democracies in Asia, the current president is Joseph Ejercito Estrada.
Credits
Map
Expedia.com. Microsoft Corp. Maps and driving directions
Directions/Instructions
Compilation
Picture(s)
Mark Benecke,International Forensic Research Consulting
Area Information
Michigan State University
Back to Top