Directions
Take exit 450 of the Transcanada Highway (#2) and follow the signs

Map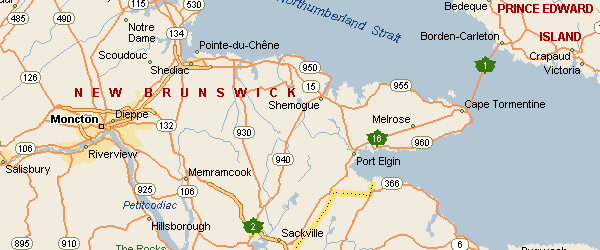 Pictures
| | |
| --- | --- |
| Looking down, in earlier days | Looking down, today |
Area Information
The area now known as Moncton was once an early Acadian settlement known as "Le Coude." After the deportation of the Acadians, the settlement lay empty until a group of eight immigrant families arrived from Pennsylvania in June 1766 with a land grant issued by the Philadelphia Land Company.
A township grew on the site named after the British soldier Lt.-Colonel Robert Monckton, who led the capture of nearby Fort Beauséjour in 1755.
The new settlement quickly flourished as a centre for ship-building and was incorporated as a town in 1855. However, the birth of the age of steam and iron ships brought a quick end to local prosperity and Moncton surrendered its charter in 1862.
A new era of prosperity came to the settlement with the location of the headquarters for the Intercolonial Railway in 1871, forerunner of CNR. In 1875 Moncton was again incorporated with the motto "Resurgo" (I rise again).
Moncton became a city on the 23rd of April, 1890. Its coat of arms illustrates the agricultural, industrial and railway heritages, along with the world famous Tidal Bore, an ever popular tourist attraction.
Credits
Map(s)
©2003 Microsoft Corp. ©2003 Navtech. Maps and driving directions
Picture(s)
Unknown Source. If they are yours let us know and we will add credit here or remove the pictures
Area Information

Compilation and New Brunswick the Gateway to Atlantic Canada

. http://new-brunswick.net
-----------------------------------------------------------------------------------------------------------------------------------
This site is hosted and maintained by the International Directory of
Magnetic Hills, Gravity Hills, Mystery Hills and Magnetic Mountains


Back to Top