Maps




Directions
From Princeton go west on 62. After approximately three miles turn right on Crider Dulaney Rd. towards the Western Kentucky Pkwy. overpass. Stop under the overpass, place the car in neutral and away you go!

Pictures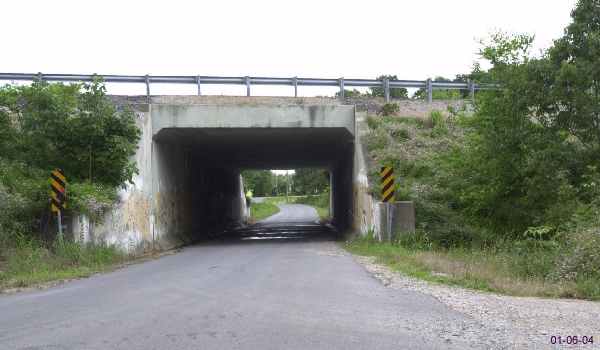 Picture of the Princeton Gravity Hill. Stop under the underpass and your car appears to drift uphill.

Instructions
WARNING. You are on a public road! Obey all traffic signs and rules. Where there are hills there are blind spots. Always bring someone to watch for other traffic. Never try the hill when the road is wet and slippery or during inclement winter weather conditions.
With caution, position your car at a "bottom" of the hill and put your car in neutral. Take your foot off the brake and you will experience the thrill of your car not only climbing the hill by itself, but gaining speed as it goes. Look out for other traffic.
---------------------------------------------
After trying this natural phenomenon you may question it's causes. Well, we don't want to disappoint you, but whether it is called a Magnetic Hill, Gravity Hill, Mystery Hill or Electric Brae it is an optical illusion. It has nothing to do with magnetic fields, electricity or unknown forces working along mysterious lines.

Area Information
Princeton, is located at the junction of U.S. 62 and KY 91, just south of the Western Kentucky Parkway. The site was first called Eddy Grove, because of its location at the head of Eddy Creek. In 1817, it was renamed Princetown to honor William Prince, an early settler, and the spelling later changed.
For six months in 1838, the residents of the city witnessed the forced march of much of the Cherokee Indian Nation from its ancestral home to reservations in Oklahoma, along the Trail of Tears through Princeton.
During the Civil War, Princeton was subject to raiding and foraging parties of both Confederate and Union armies. A Confederate regiment camped on the grounds of Princeton College, and one of the buildings was used as a hospital. On October 15, 1864, Gen. Hylan B. Lyon's Confederates burned the courthouse, on the ground that it had been used by the Union army for other than civilian purposes.
In 1872 the Elizabethtown & Paducah Railroad (now part of the Paducah & Louisville) was completed through Princeton, and a junction was formed in 1887 with the north-south Ohio Valley Railroad (now the Tradewater Railroad), which connected Evansville, Indiana, and Hopkinsville. The town grew and thrived as a business, educational, religious, transportation, and agricultural center.
Industry came with the establishment of the Princeton Hosiery Mills in 1918. With the completion of the Western Kentucky Parkway in the mid-1960s, the city was able to attract other industries. Products manufactured in Princeton include hosiery, jeans, metals, trophies, pallets, and limestone products. The population of the city was 6535 in 2000.
Credits
Map(s)
©2003 Microsoft Corp. Maps and driving directions.
Picture(s)
Compliments of The Times Leader OnLine. The E-News source for Princeton & Caldwell County
Area Information
Condensed from the Kentucky Encyclopedia.
Back to Top